Impact
1. IMPROVEMENTS IN METRICS
Our team ran growth experiments that increased a 10+ year newsletter subscription base by 50% in 8 months, improved commenting by 20%, social sharing by 30%, significant impacts in SEO and more — which contributed to an overall growth in MAU by 80%. Ran experiments targeting user acquisition, retention & engagement, content recommendation, and monetization.
2. INNOVATION
I initiated, pitched, and led a cross-departmental CTA personalization project that was awarded 170k USD in the Google News Innovation Challenge (Project Atlas - read more below). Led the participation of the Facebook Reader Revenue Accelerator 2020 representing SCMP and worked with professionals from Facebook, the New York TImes, the Wall Street Journal, and more to design strategies to increase SCMP reader revenue.
3. SHIFTS IN COMPANY MINDSETS & CULTURE
I secured buy-ins to bring fundamental shifts in mindsets & processes within the company, such as looking at retention cohorts, financing product analytics tools, interviewing users prior to developing strategies and products. Our team also organized growth sharing sessions to instill the product growth mindset within the company, bringing sharings from people at TechCrunch, Netflix, and more.
Managing the Growth Team's portfolio like VC
Managing a growth team is like managing an investment portfolio (see John Egan's blog post about the growth team at Pinterest). Each project & experiment is an investment with the goal of maximizing long-term return. At SCMP, like many growth teams in tech companies, we categorize our experiments and initiatives into three major asset classes:
1. ITERATIVE EXPERIMENTS & CAMPAIGNS (50%)
Typical growth team A/B tests that bring incremental improvements & learning. Low-medium efforts, with a typical 30%-70% success rate. Iterative experiments usually targets different parts of the user journey:
Some areas that we have covered include:
1. User acquisition & referral: examples include how to drive more page views from social posts & video channels and encouraing social sharing. We didn't spend a lot of effort in user acquisition & referral
2. Retention & engagement: driving more newsletter signups, social following & app installs; increasing user commenting, PV/UV; improving recirculation & testing content recommendation
3. Monetization: increasing subscriptions by increasing touch-points to paywall & optimizing user-flows.
2. INVESTMENTS (20% - 30%)
In the context of SCMP, this includes tech investments and audience / data insights investments. Since we have set the growth team from ground up, there is a lot of new infrastructure that we need to set up. These initiatives take moderate to significant amount of effort in the beginning but they lay the foundation for future growth & productivity.
Tech investments: setting up the growth-experiment infrastructure, & processeses. Setting up data-analysis pipelines, Mixpanel, anti-collision frameworks for experiments & campaigns.
User insights investments: leading & coordinating the collection and aggregation of user declared (surveys, NPS) & undeclared (cross-platform/product behavior) data for analysis & user segmentation.
3. BIG BETS (20%-30%)
Projects that have lower probabity of success (20-40%) but can open up new opportunities with great impact. We've so far initiated two cross-departmental projects in this category:
1. Project Atlas: awarded 170k in Google News Innovation Challenge. A combination of an investment & big bets project. Project Atlas is a system that dynamically classifies users into persona clusters based on their demographic, psychographic, and behavioral data. These personas can then be fed into models and recommendation engines to better personalize user journeys, increase engagement and retention, and optimize monetization opportunities. While this looks like a typical personalization project at a tech company, this is considered a big bet at SCMP due to our stage and the fly-by / irregular nature of our user data. More about Project Atlas here.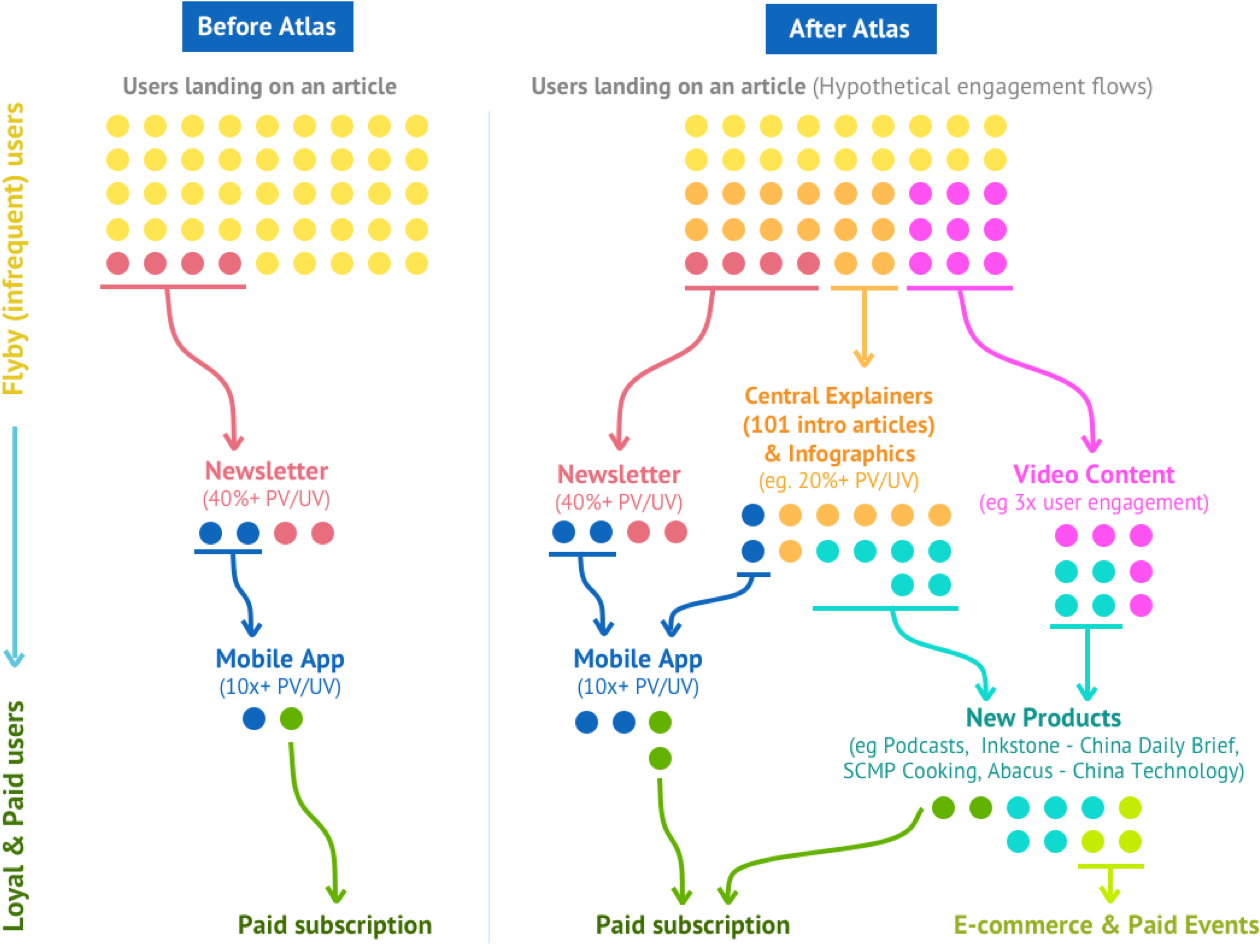 2. Project Nemo: the core product of SCMP is still our content generated by our 300 journalists. Achieving growth that can scale in a newsroom is a challenge. Project Nemo is a model that turns articles into keywords, and then attaches SEO, search, and social traffic to these keywords to generate insights into the content that work well. The model is then integrated into newsroom publishing tools & data analysis dashboards to facilitate editorial in planning their content and writing headlines that do well in search & social.
It started out as a hackathon project with members from editorial, marketing, SEO & product, which later turned into reality with investment from senior leadership. More about Project Nemo here.